The Plantation Course: an Update on Maui's Premier Golf Course
Posted by Courtney M. Brown on Thursday, June 20th, 2019 at 5:03pm.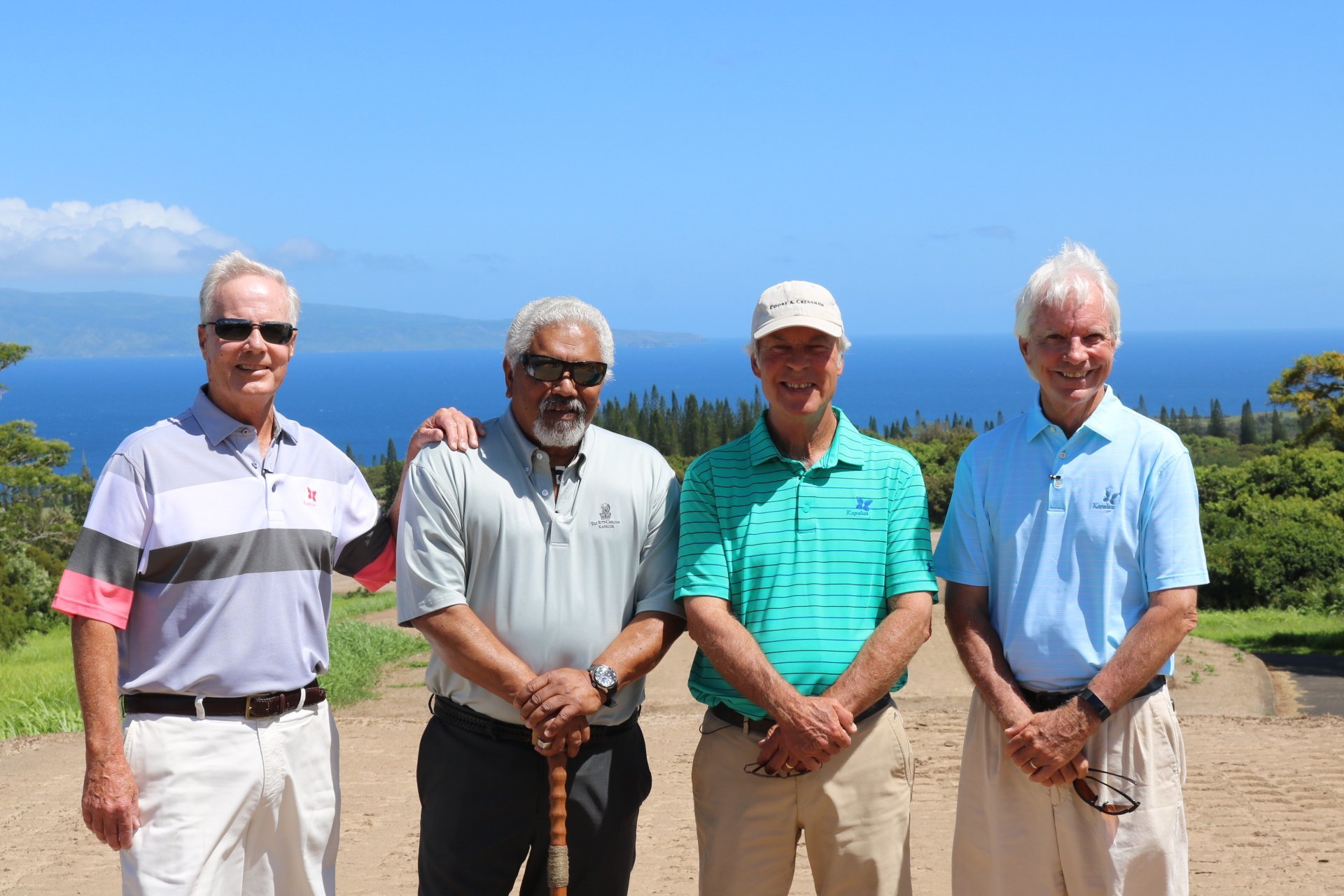 Photo: Kapalua Golf, From L- to R - Mark Rolfing, Clifford Nae'ole, Ben Crenshaw and Bill Coore at the Plantation Course
Kapalua's famed Plantation Course is home to the PGA TOUR's Sentry Tournament of Champions, an invitation-only tournament featuring an elite field of tour winners from the year before. Consistently ranked as the #1 golf course in Hawaii, with numerous awards and accolades, playing the Plantation is a must for golfers visiting Maui.
It has been said that the course has become easier over the years for the pros, yet harder for the recreational user. The course closed early in 2019, for an extensive refinement project with the assistance of one of the original designers, Ben Crenshaw, along with Troon's Design Development and Agronomy team, and long-time Maui resident and Golf Channel personality, Mark Rolfing.
Crews are making quick progress on this extensive refinement project. As of June, all bunker shaping and drainage has been completed and all greens have been final shaped. The entire course, all 100 acres, have been sprigged with Celebration Bermudagrass and 14 greens have been grassed with TifEagle Bermudagrass. The remaining four greens will be grassed the week of June 24th.
The Kapalua Golf team is planning on a soft opening in November with the course in pristine condition by The Sentry Tournament of Champions. In this video, Mark Rolfing discusses plans for refining the golf course to create a better playing experience for the recreational golfer as well as create a fun and interesting experience for the pros. Watch it to learn more about what the designers of the course have in mind...plus, there's some great aerial footage of Kapalua!
Keep up with the progress by following Kapalua Golf on instagram: https://www.instagram.com/golfatkapalua/ or by visiting https://golfatkapalua.com/plantation_course/
Courtney M. Brown, R(S)
Vice President
Island Sotheby's International Realty
Leave a Comment