KAPALUA QUICK SEARCHES: RIDGE VILLAS & ALL CONDOS

---
KAPALUA RIDGE VILLAS CONDOS FOR SALE

Get New Listings by Email To save this search: register and click the

on the listing search bar below.
KAPALUA RIDGE VILLAS | Condos for Sale
No listings were found matching your search criteria.
View Recent Kapalua Ridge Villas Sales
ABOUT THE KAPALUA RIDGE VILLAS | KAPALUA MAUI
The Ridge Villas are perched on a ridge overlooking the ocean, with sweeping views of the coastline and the mountainside. Nestled along the Bay Course, many of the Ridge Villas offer views of the course, and some even the Plantation Course in the distance.
Built in 1980, the Ridge Villas were designed for low density–there are just 161 one and two-bedroom condominium residences on 21.5 acres. There are just five to six villas in each of the 28 buildings, and each villa has a dedicated carport and storage.
The Ridge Villas offer two swimming pools with recreation areas, BBQ facilities, and a recreation room. Summertime is my favorite time at the Ridge Villas, when all of the colorful shower trees are in bloom.
The Ridge Villas are located across the street from the beach at Oneloa Bay, the Coastal Trail, and the Spa Montage. The villas are a short distance to many popular restaurants, golf and tennis.
KAPALUA RIDGE VILLAS MAP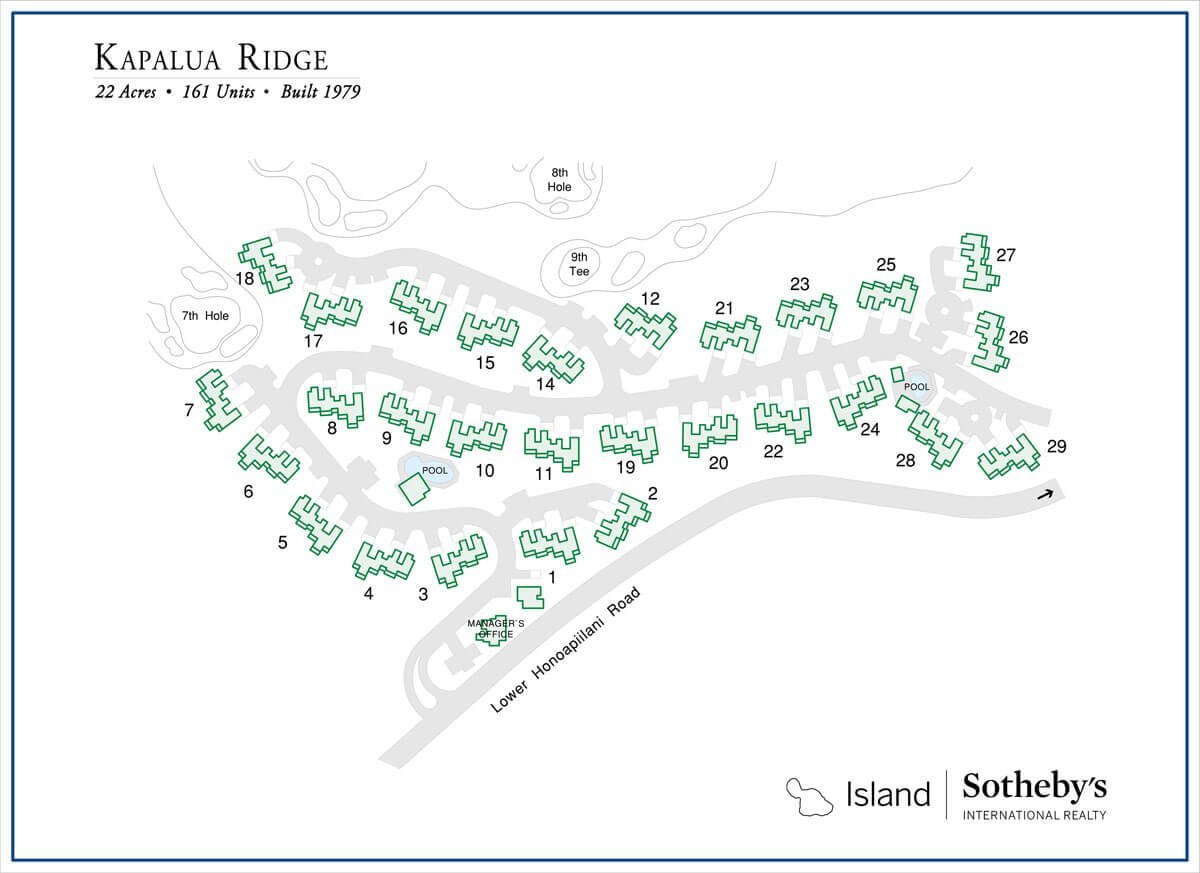 REQUEST INFORMATION ON CONDOMINIUMS FOR SALE AT THE KAPALUA RIDGE VILLAS
Thinking of buying or selling a condominium at the Ridge Villas? Contact me for an up-to-date Comparative Market Analysis of the Ridge Villas, or for additional information on listings, the Kapalua real estate market, and the resort. Or REGISTER to create a free, private account, which will allow you to save listings, receive notices of new listings, and monitor the market.
Browse Kapalua Neighborhoods
Kapalua ® is a registered trademark of the Kapalua Land Company, LTD.