Reminiscing: A day with Duke at the Bay
Posted by Courtney M. Brown on Thursday, December 15th, 2016 at 9:36pm.
Today, I came across an old blog post--I couldn't find the date, but know it's before 2013. Unfortunately, as I've changed website platforms a few times now to adapt to new technology, the photos associated with this blog aren't active any more.
However, I thought I'd share the post along with a photo I took of the Bay while flying over with a friend. Sometimes it's good to look back and remember the great days you have had with your dad, and a glimpse into his life long before you were born...I hope you enjoy it as much as I did.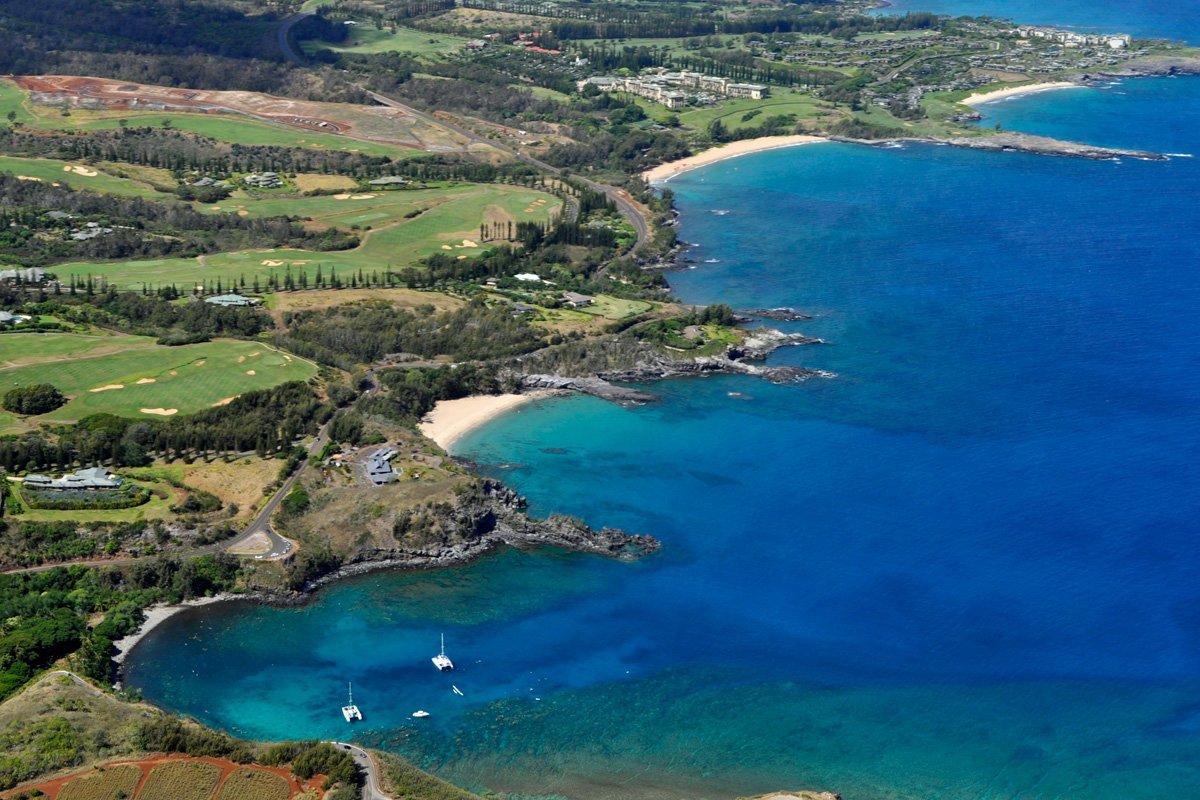 "Each week, my father, Duke, comes over for dinner. It's kind of our family thing. When he arrived at our place yesterday afternoon, he could barely contain his excitement. He'd seen the surf on the drive from Lahaina to Kapalua, and there was no question: dinner was delayed. We were headed North to Honolua Bay.
My father grew up surfing on the North Shore of Oahu in the 40's and 50's, at his home breaks, Haleiwa and Sunset. Later when he went to Honolulu to surf, he loved Ala Moana Bowls, #3, and Queens. In 1959-1960, he moved to Maui, to get away from the crowds, and settled his first few months at Honolua Bay. He camped out in a bamboo shack with a palm frond roof, and spent an idyllic winter, surfing every day on waves with just a few friends.
Yesterday, the surf promised to be fun to watch (but not the huge waves the Bay is sometimes known for, as it was a little windy). We made our way to the look out from Lipoa Point. This dusty, rocky point was most recently home to pineapple fields, but in the 1940's it was a links style golf course. On a clear day, you can see through the water and watch the fish and turtles below. In the summer of 2005, a fishing net full of Akule broke away from a boat, and for about a week, the bay was home to several large tiger sharks. I drove out to the Bay then, too, and the water was clear enough to watch the sharks swim back and forth from the safety of the point above.
We stood along the same edge yesterday, watching the different wave breaks–my dad pointing to the farthest breaking waves known as "Subs," then just inside "Coconuts", and his favorites, "The Cave" and "Keiki Bowls". When I asked what was the largest wave he ever surfed there, he simply said "as big as you could ride it." He wistfully explained that back then, they didn't have the jet skis and boards they have now, so they didn't get ride at Subs when it was big. He said he's seen waves so big, that they would stretch from Lipoa to Kaleipiha, effectively closing out the whole bay.
Today Honolua Bay is part of the Mokule'ia Marine Life Conservation District. The preserve was formed in 1978, and stretches across Honolua Bay and Mokule'ia Bay (Slaughterhouse), from Lipoa Point to Alaeale peninsula. Honolua is known for great snorkeling in the calmer summer months and world class surfing in the winter. As a marine preserve, fishing is not permitted and the abundant reef life is quite a sight."
In the original post, I'd suggested people visit the Save Honolua website for more information on how to support efforst to save the bay and the spectacular natural ecosystem. Now, it's saved from future development and will remain in conservation. For more information on Honolua Bay and the 45 acre marine preserve that is the Honolua-Mokuleia Bay Marine Conservation District you can visit the Department of Land and Natural Resources Honolua-Mokuleia Bay page.
Courtney M. Brown, R(S) & Team
Vice President
Island Sotheby's International Realty
Leave a Comment