Maui Real Estate Market Report: October, 2023
Posted by Courtney M. Brown on Thursday, November 9th, 2023 at 1:24pm.
Maui County Real Estate Market Report: October 2023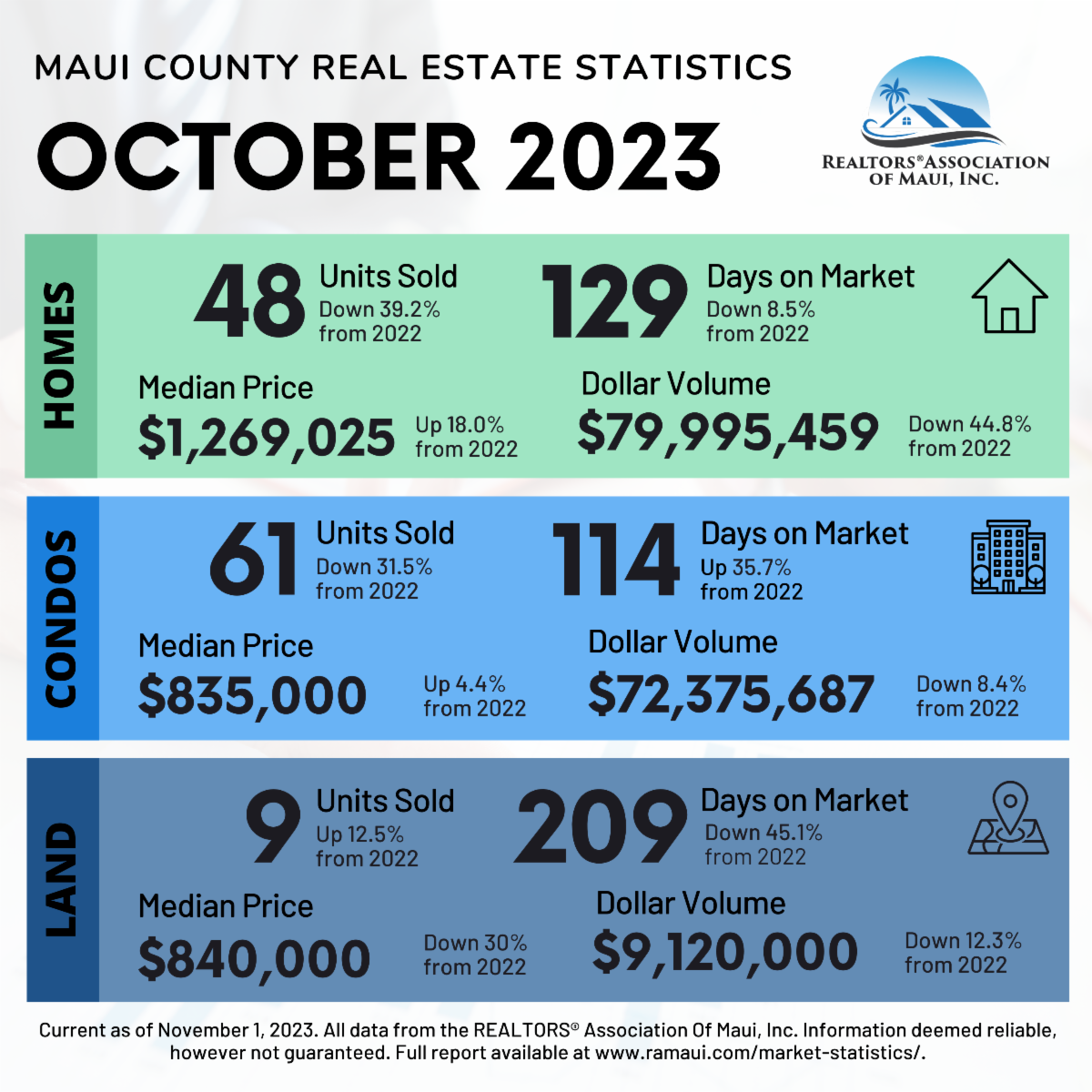 The latest statistics from the Realtors® Association of Maui for October 2023 paint a dynamic picture of the real estate landscape in Maui County. Here's a breakdown of what's happening in the homes, condos, and land markets.
Maui Homes Sales
The number of homes sold saw a decrease, with 48 units sold which is a 39.2% drop from 2022. Despite the slowdown in sales, the median price of homes has risen to $1,269,025, marking an 18% increase from the previous year. Interestingly, homes spent fewer days on the market, averaging 129 days, which is an 8.5% decrease from 2022. However, the total dollar volume of sales significantly declined by 44.8% to $79,995,459 as inventory remains low.
Maui Condo Sales
In the condo market, sales also dipped by 31.5% with 61 units sold. The median price, however, showed a slight increase of 4.4%, with the figure now at $835,000. Contrary to the homes market, condos spent more time on the market — 114 days, which is a 35.7% increase. The dollar volume saw a minor decrease of 8.4% to $72,375,687.
Maui Land Sales
The land sector experienced mixed results. Units sold increased by 12.5% with 9 transactions. The median price saw a significant drop of 30%, bringing it down to $840,000. Land also spent less time on the market, showing a substantial decrease in days on market by 45.1% to 209 days. The total dollar volume of land sales decreased by 12.3% to $9,120,000.
The shifts in the Maui real estate market suggest a cooling period, especially in the homes and condos sectors, with prices still on the rise despite fewer sales. Land sales are a bright spot with more lots sold, although prices have decreased. The limited inventory in the housing market may propel homebuyers discouraged by the lack of options to build.
For potential buyers and sellers, these statistics highlight the importance of understanding market trends and the value of patience, whether waiting for the right price or the right opportunity to buy. For a more in-depth analysis, read the full report on the state of the Maui real estate market
Data from the Realtors® Association of Maui, Inc. for October 2023 is considered reliable but is not guaranteed.
Courtney M. Brown, R(S) & Team
Vice President
Island Sotheby's International Realty
Leave a Comment