Maui Real Estate: Foreign and US Buyers in 2016
Posted by Courtney Brown on Monday, March 6th, 2017 at 9:21pm.
Maui Real Estate Market Overview and Buyer Statistics 2016
Many Buyers and Sellers want to know where buyers of Maui County real estate call home (in this case, their legal residence). There is often a misperception that the majority of our foreign buyers come from Asia. While this might be true for Oahu's market (particularly Honolulu), it hasn't been the case for Maui County, which includes the islands of Molokai and Lanai. Each year, Title Guaranty, one of Hawaii's most reputable Title and Escrow Companies, provides us with Buyer statistics.
MAUI BUYER STATISTICS: TOP FOREIGN AND US BUYERS
As you can see, the bulk of purchases in 2016, made by foreign buyers of Maui real estate continue to be Canadian, with 59 transactions totaling $60.7M. This is down (-36% number of transactions/-30% volume) from 2015, when Canadian Buyers participated in 80 transactions totaling $79.2M. In 2016, Buyers from Japan increased to 5 transactions totaling $10.0M compared with only 3 transactions totaling $5.4M in 2015. Read more about the Maui Real Estate: Foreign and Mainland Buyers 2015.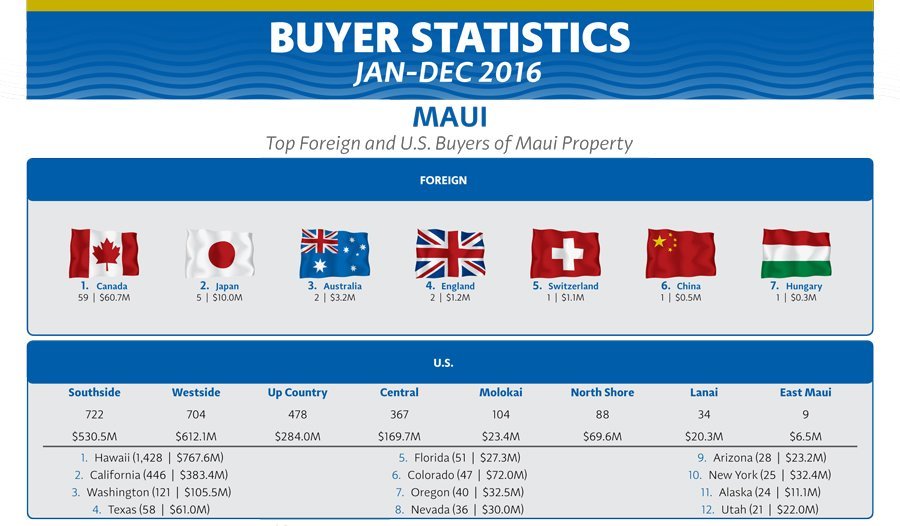 MAUI REAL ESTATE BY AREA
When looking at our mainland market, the largest mainland feeder markets are California and Washington. This particularly holds true in the resort markets in West Maui (Kapalua, Kaanapali) and South Maui (Makena, Wailea, Kihei).
While there were a consistent number of buyers from California, there were fewer buyers from Washington (-7%), Texas (-29%) and Colorado (-6%) in 2016 when compared with 2015. Surprisingly, there were increases in 2016 over 2015 in Buyers from Florida (+55%), Nevada (+19%) and Arizona (+18%).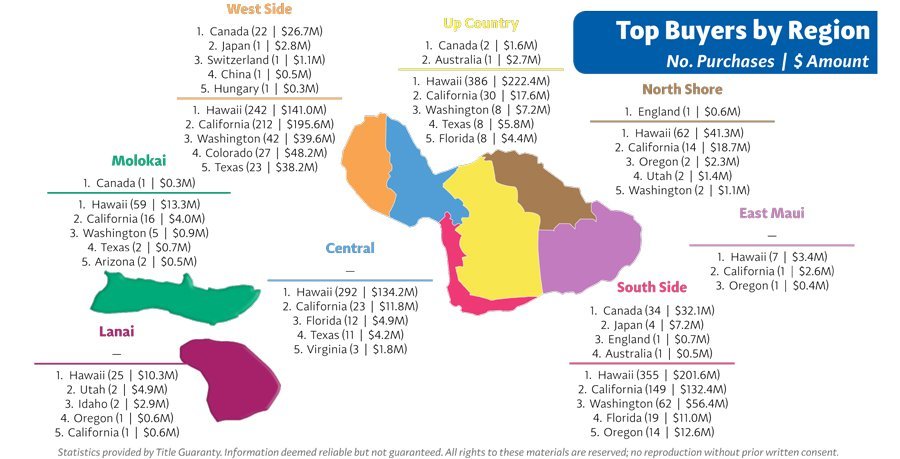 For more detailed information on the Maui Real Estate market and statistics, you can read the Maui Real Estate Statistics for 2016 prepared by the Realtor's Association of Maui. Please feel free to contact me any time with questions or for more detailed information on a market that interests you.
Courtney M. Brown, R(S)
Vice President
Island Sotheby's International Realty
Leave a Comment