Keep Maui Green! Support Third Saturday Recycling in West Maui
Posted by Courtney M. Brown on Wednesday, April 24th, 2019 at 12:44pm.
Maui needs your help to continue Third Saturday Recycling every month next year. Just a few minutes of your time can make a huge difference for Maui's ecological future.
Volunteers recycling appliances, TVS and scrap metal as part of West Maui's Third Saturday
The Mayor's proposed budget for next year includes just half the funds needed for Third Saturday Recycling. Unless the County Council increases the funding, these monthly events will only be held every other month starting in July.
This is an incredible service to West Maui residents, run largely by volunteers and Malama Maui Nui. Since the Third Saturday Recycling program began in July 2015, Malama Nui has collected over 500 tons of electronic waste – that's over 1 million pounds of refuse.
Items collected include appliances (both Freon and non-freon), scrap metal, e-waste, tires, and lead-acid batteries.
Please let the County Council members know how important it is to continue Third Saturday Recycling every month.
Or, if you prefer, send an email to one or more of the County Council members
The program is co-sponsored by Malama Maui Nui, County of Maui, 5A Rent-A-Space, Lahaina Cannery Mall, Rotary Club of Lahaina Sunset Only Malama Maui Nui receives funds for this program from the County of Maui. Other sponsors donate labor, marketing, transportation, and facilities.
Your donations to Malama Maui Nui to help support Third Saturday Recycling will be GREATLY appreciated. You can donate online at malamamauinui.org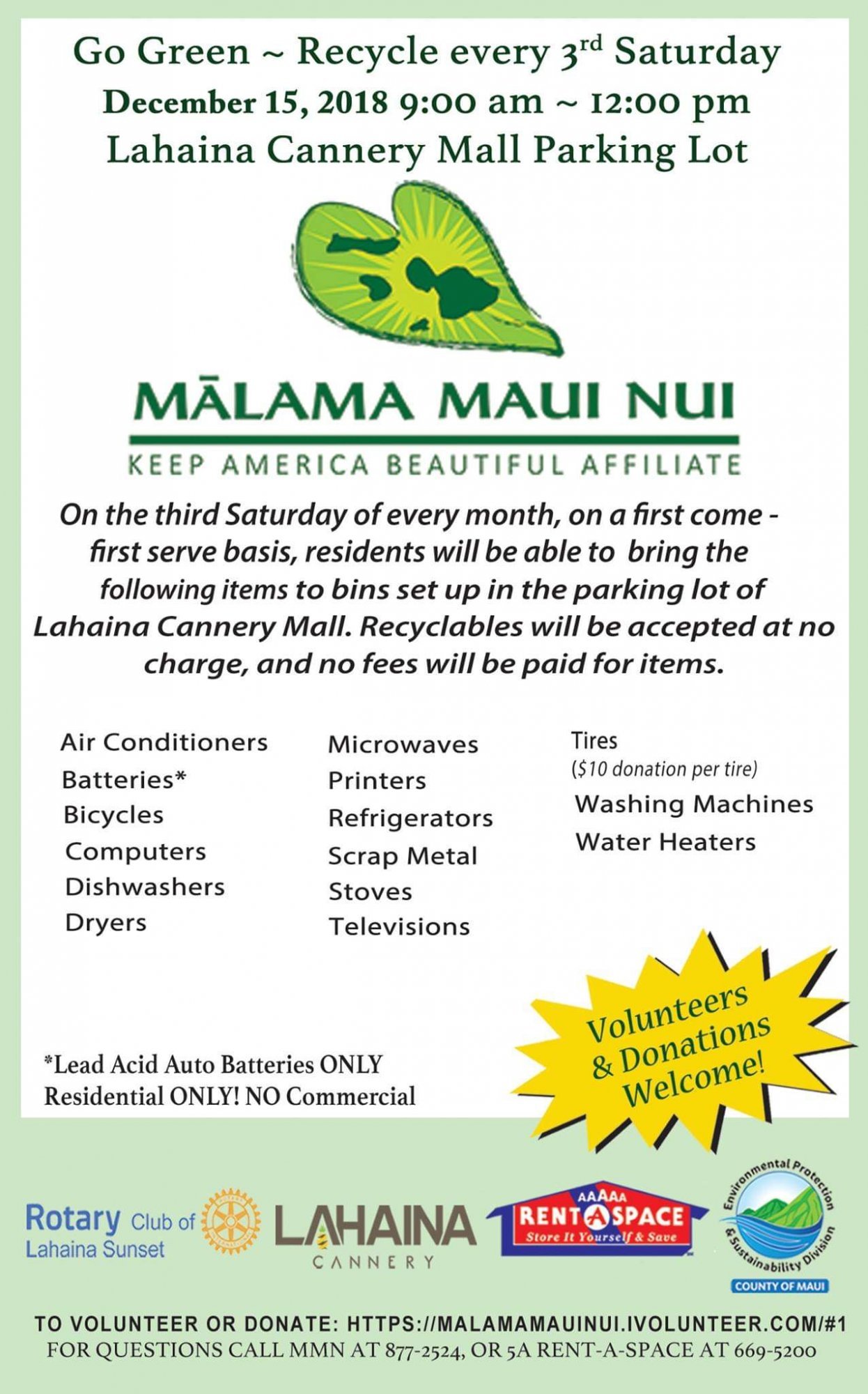 Courtney M. Brown, R(S)
Vice President
Island Sotheby's International Realty
Leave a Comment